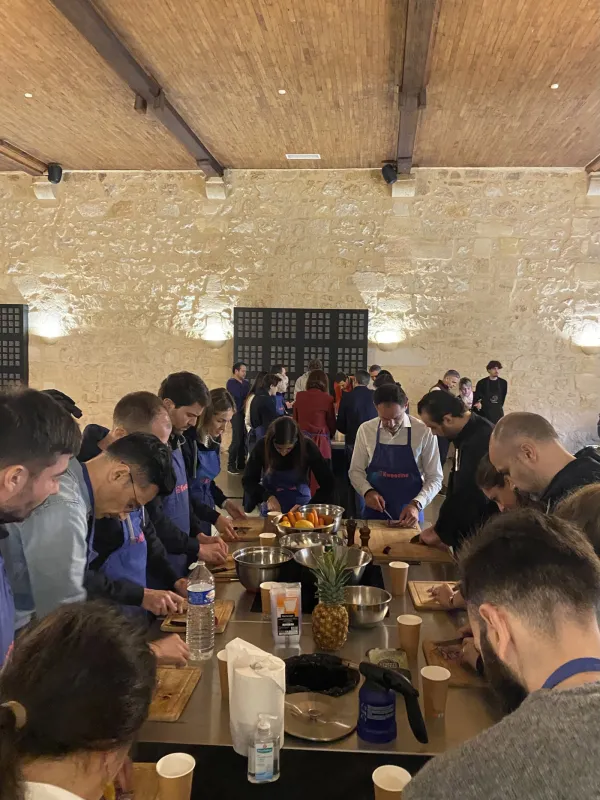 Culinary workshop and lunch cocktail for 50 guests, with Toque Events
Toque Events is a specialist in culinary events. As an example, we conceived a cooking class followed by a lunch cocktail for a group of Italian students.
On March 23, 2023, Toque Events organized in collaboration with Kweezine agency, a cooking class followed by a lunch cocktail at the Château d'Agassac in the Médoc.
Toque Events welcomed about fifty Italian students, on exchange with Kedge Business School in Bordeaux. For the occasion, they wanted a friendly event under the sign of the delicacies.
In the reception room of the castle, the apprentice cooks were divided into four brigades around our fully equipped kitchen units (oven and 3-burner stove).
Under the supervision of chefs Nawel Chati, Stéphanie Bottreau, Eric Gérona and Jean Michel Bourdoncle, each brigade created two savory recipes. During 1h30, guided by the chefs' advice, the participants shared a moment of conviviality and friendliness.
At the end of the course, the participants met in the park of the castle for a lunch cocktail.
Our cooking classes can be followed by a lunch or dinner cocktail as in this event, but also by a meal served at the table, take away or simply a taste of each recipe made.
As a specialist in tailor-made meals, we always adapt our recipe to our clients' desires!