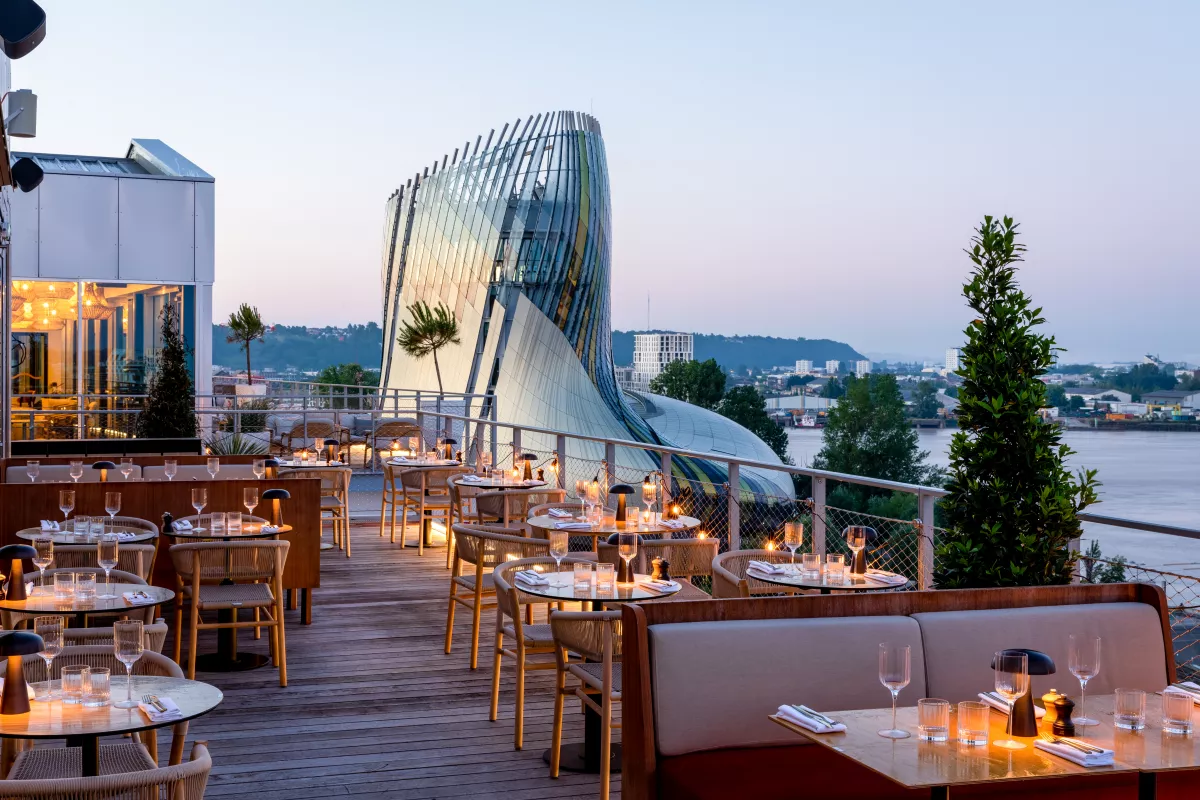 RENAISSANCE: NEW 4-STAR HOTEL OPENED IN JUNE
Opened since June few steps from its sister hotel the Moxy, you might already heard about the Renaissance Bordeaux Hotel, with its theatrical entrance by the historic silos and its 360° view from the rooftop.
Coffee shop beside the garden; a restaurant, bar and pool on the roof; an ideal location behind the Cité du Vin; and prestigious names behind the architecture and design: this four-star hotel promises to be the place of discovery.
In the 149 bedrooms, the architect creates a dialogue between the interior and the exterior, between what is natural and what has been carefully fashioned. Wooden furniture, velvet curtains and brass reflect the light warm and enliven the raw concrete.
The hotel offers four meeting rooms with natural daylight. Three of these are on the ground floor, with an average size of 90 sq m. They are modifiable and can be combined, creating a 258 sq m space to accommodate large groups with direct access to a 120 sq m terrace that looks out onto the Place des Millésimes. The last room, which is 50 sq m, is the Wine Cellar on the rooftop and offers an exceptional panoramic view.
The Renaissance is also Gina: this is the perfect spot for every occasion from breakfast to the last cocktail before bed. On the ground floor, it's a real coffee shop that straddles the lobby and a hidden oasis: the silo garden. On the ninth floor, there is a rooftop restaurant and terrace with panoramic views, open to all for breakfast, lunch and dinner. The adjacent cocktail bar and its suspended terrace cannot be missed. And all the spaces can be privatized !
And finally, there is a privilege available nowhere else in Bordeaux: to swim above the city, with a view of its most beautiful monuments. The rooftop pool of the Hotel Renaissance is on the building's ninth floor open to guests all year round. From here, guests have a picture-postcard view of the Aquitaine Bridge, the Cité du Vin, Garonne river and the Chaban Delmas Bridge.