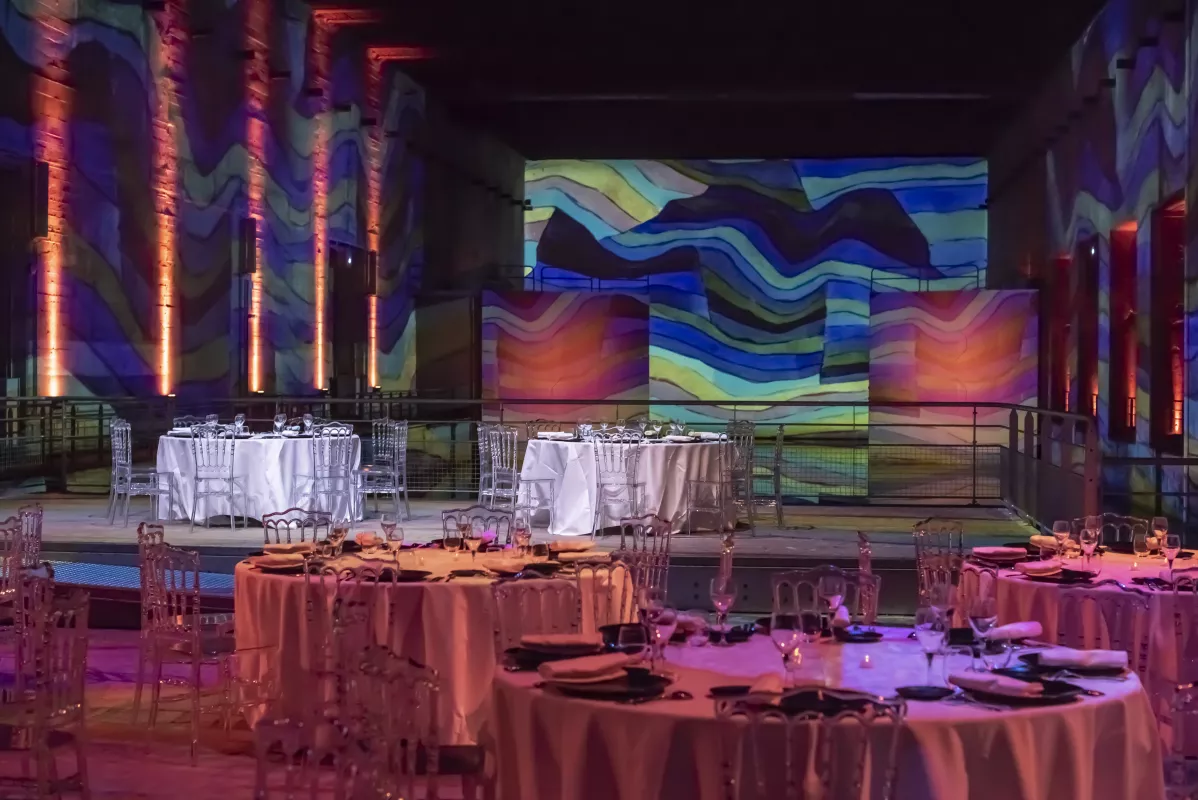 Immersive gala dinners and themed banquet tables at the Bassins de Lumières
Have you thought about the Bassins de Lumières for your prestigious dinners?
From the Bassins de Lumières docks, along the central pathway that crosses the entire Submarine Base, the videoprojected artworks are reflected on the white table-sets during your gala dinners. The immersion of the guests is total. We take advantage of the exhibition while sitting at the table, the projection is displayed between each course. Then during the meal, it is another contemplation that the Bassins de Lumières offer us. The structure of the building is revealed, highlighted by elegant architectural lighting. This subdued atmosphere can be further enhanced by a live orchestra on stage. The latter overlooks the basins, offering a beautiful perspective towards the water gates decor. To this backdrop can be added the projection of an art piece chosen from the Culturespaces art catalog, creating a unique point of view for the guests at their tables.
From the walkways set in the middle of the basins, the full immersion can also give way to unusual banquet decorations. The themed tables stand at the center of various decors chosen from the site's artwork catalog. Scenes of moments of life, graphic and colorful art pieces invite to a variety of atmospheres. Totally immersed in the images and reflections, the guests forget about the Bordeaux Submarine Base to dine at the heart of the art, during a chic picnic with the Impressionists, for example, or in a Viennese Palace with Gustav Klimt. The examples are sure to inspire the creativity of event planners.
With its 14,000sqm of total area and its 3,000sqm of wandering space, Les Bassins de Lumières offer an outstanding capacity in the current context.
More information