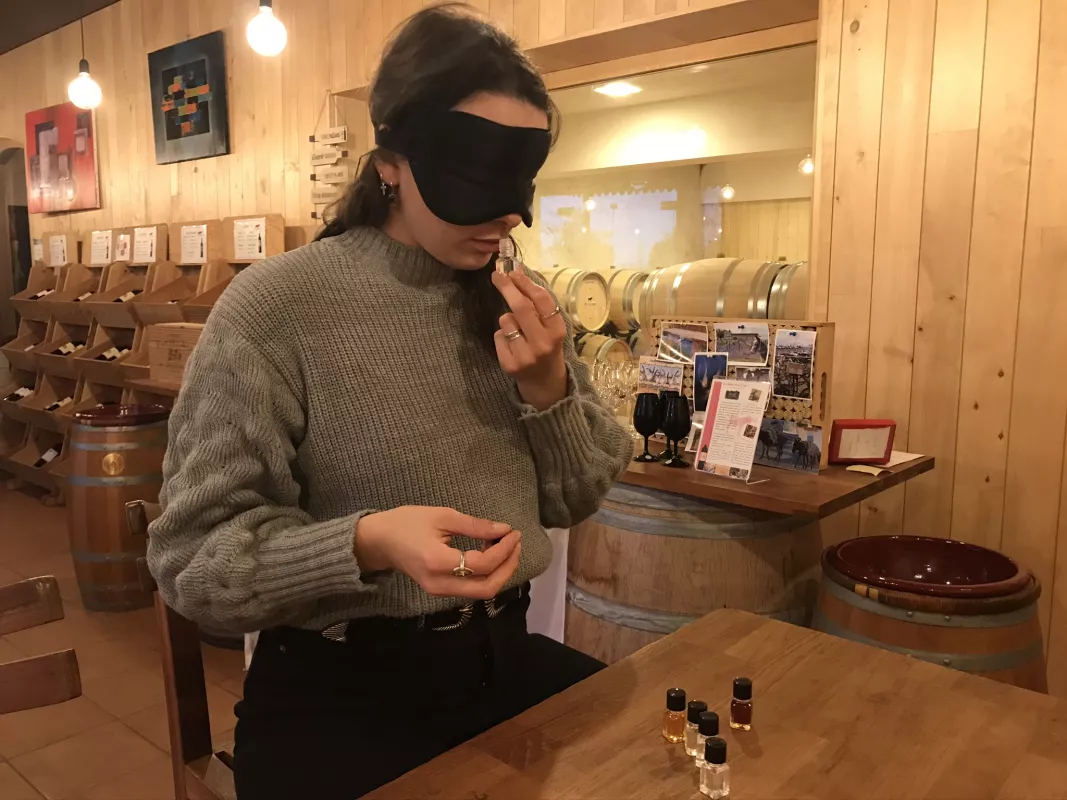 Wine in black : when losing a sense makes sense !
Novelty from Oenanim, Wine In Black offers an oenological workshop in the dark: an immersive experience of the work of the vine, wine with a tasting of wines, chocolates, music in wine estate or seminar room !
When losing a sense makes sense! This is the observation of Oenanim which after the EscapeWine, oenological escape game in team challenge, launches this year Wine in Black®. Immersed in the darkness, live a unique experience of mindfulness by discovering the different terroirs, the vine from its formation to its growth, the wine making and maturation process, the aromas of the wine... Your senses are awake, and you taste our Saint-Emilion Grands Crus which comes with chocolate and music for a guaranteed emotional journey!
1st workshop: Connect you with nature through the discovery of the terroirs and the vineyard...
With your hands, feel and learn to identify the sandy, clayey, gravelly soils. Through their texture and porosity, understand the impact on the sustainable work of the soil, the vine and the maturity of the grapes that result from it. Then there is the connection with nature and the vine. Through the tactile connection with the vine, feel its growth, its development over the years, its buds, leaves or bunches, and how the winegrower adapts to each vine to enhance the maturity of the grape to produce quality wines that respect the environment. Then practice your sense of smell with the bottles of aromas characteristic of the Merlot, Cabernet Franc and Sauvignon grape varieties.
2nd workshop: Experience the transformation of wine, from vinification in vats to maturing in barrels....
Walk through the vat room, understand the alcoholic fermentation in the stainless-steel vats. Feel the impact of pumping over on the body of the wine through the different textures (soft, silky, rough) that represent the tactile sensation of the tannins of the red wines on the palate. Then walk through the barrel, feel the different wood/barrels heating to understand the aromatic impact of the oak on the wine's bouquet. Finally, identify the aromas linked to the evolution of the wine.
3rd workshop: Tasting of Saint-Emilion Grands Crus with chocolates and music.
Your senses are awakened, you learn to taste the wines, the vocabulary related to your sensations, and identify the different subtleties and mysteries it contains. Then taste the same wines again with chocolates and music, let the wine taking you on a journey through your own emotions and memories.
End the journey by revealing your emotions and discover with your eyes what you have seen from the inside.
Duration: from 1h30 to 2h. The activity is proposed at the Château Pas de l'Ane in Saint-Emilion or in wine properties or seminar room.
More information