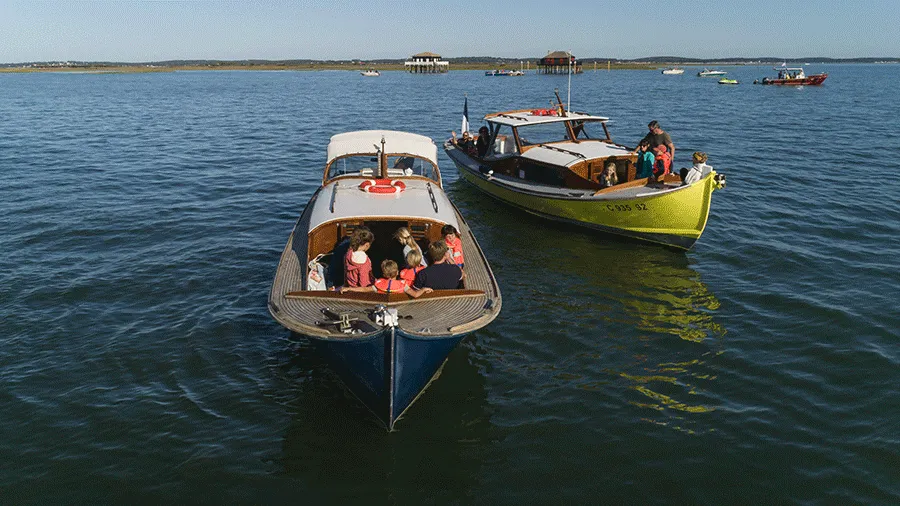 Nautical Rally Pearls & Nuggets of the Basin
We offer you a fun, gourmet experience to discover the riches of the Arcachon basin. A product in line with our eco-responsible values and which allows your company to concretely support the local economic fabric of Arcachon.
For this activity, you will be divided into several « pinasses » for a trip on these traditional boats, accompanied by a C.S.R. team-building game.
Our nautical rally takes the form of an experiential & gourmet cruise that ends in the spirit of the 10 little blacks with a unique twist: "What if the pearl ... was you?
We propose an adventure of approximately 2 hours duration, collaborative, narrative and enigmatic, with accessories such as trunks, padlocks, cryptex, puzzles, all inserted in a 3-hour boat ride.

The use of interdependent riddles based on the environment and the sagacity of the participants encourages communication between the teams and allows the variety of their skills and know-how to be highlighted. When the chest is opened, it reveals to the participants a delicious basket filled with specialities of the basin to be tasted immediately or to take home!
We will deliver a turnkey product including access to the roadbooks in print & play, a chatbot that will guide you on the rally, as well as the accessories for the teams.
The Nautical Rally in 4 points:
A gourmet cruise with a focus on local production

A discovery of the Bay based on ecological values

A moment of team building in pursuit of a common goal. Is your group spread over several boats? See you at the end of the trip to compare the results of your miraculous catch!

An unforgettable playful adventure based on the best practices of the most famous escape games...

Surprise effect guaranteed!