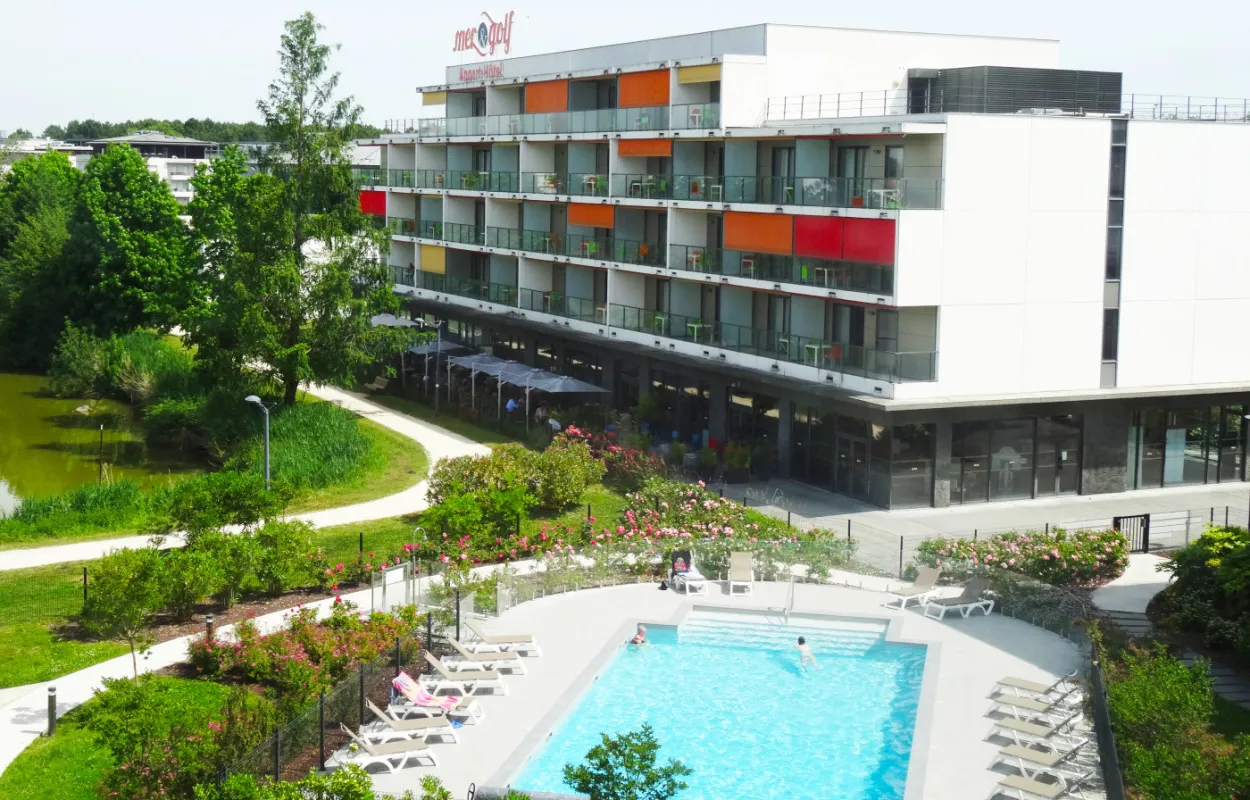 The establishments Mer & Golf
Mer & Golf Appart'hôtel are residences by the sea, in the mountains and in the heart of the city: places selected for their privileged and prestigious locations.
Focus on our three residences in the heart of Bordeaux: Mer & Golf Bordeaux Bruges, Bordeaux Lac and Bassins à Flot. Located in 3 different renowned areas of Bordeaux, all three offer spacious and modern accommodation, close to all amenities and with access to the center of Bordeaux in less than 15 minutes. From studios to 1-bedroom flats, enjoy a comfortable stay alone, with family or friends at the best price in the center of Bordeaux.
Mer & Golf City Bordeaux Bruges
In a quiet urban environment on the edge of a lake, the aparthotel is located 800m from the Tramway which allows you to reach the Palais des Congrés, the Parc des Expositions, the Matmut Atlantique stadium, the historic centre of Bordeaux classified as a UNESCO heritage site and the TGV station. The property is right next to the Caliceo fitness area. The Bordeaux Bruges hotel has three spacious seminar rooms and a restaurant perfect for seminars or evening stops, ideal for your business trips.
Mer & Golf City Bordeaux Bassins à Flot
The Aparthotel is located in the Bassins à Flot district: close to the Cité du Vin, the Garonne and the Pont Jacques Chaban-Delmas, this establishment is in the heart of a dynamic area with a wide choice of restaurants, meeting rooms and shops nearby.
Mer & Golf City Bordeaux Lac
Appart'hôtel Mer & Golf City opened its doors in 2019. It is located in the heart of the new eco-district of «Bordeaux Ginko». It is located in the immediate vicinity of the Exhibition Centre, the Palais des Congrés, the Matmut Atlantic Stadium and the Bordeaux Lake