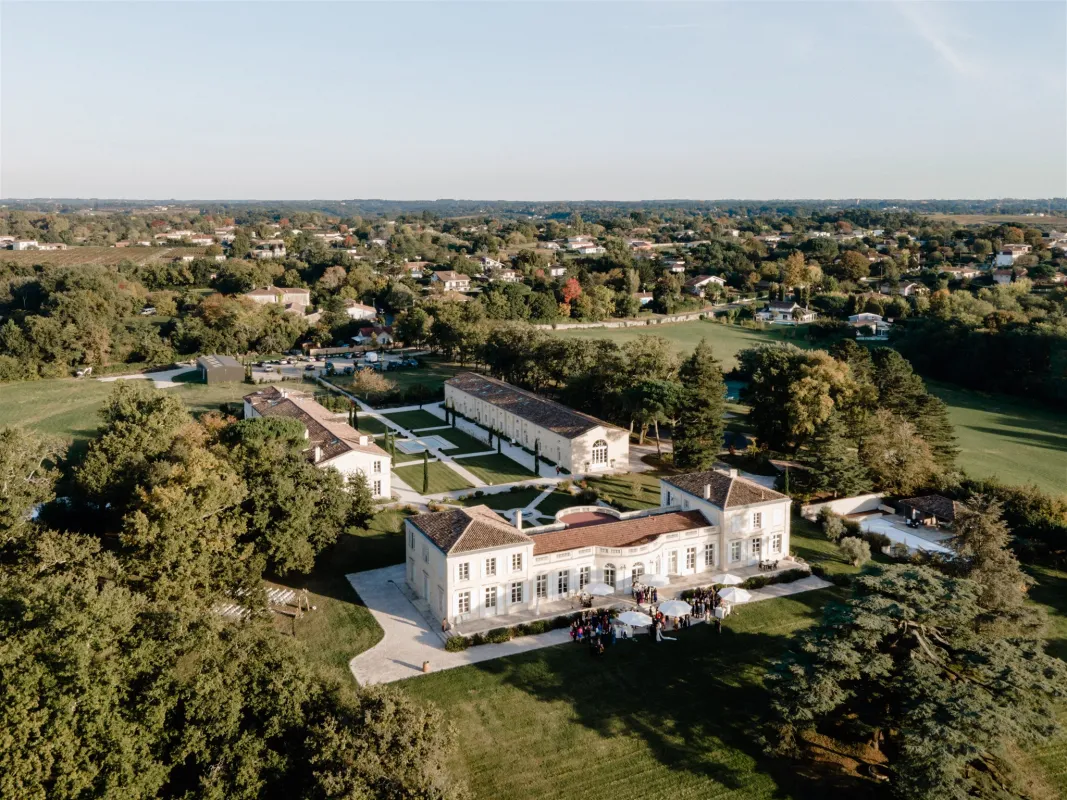 Château Gassies, Partner of your corporate events
Located in Latresne, 10 minutes from the St Jean TGV train station in Bordeaux and 25 minutes from Merignac airport, Château Gassies offers thourough packages adapted to any corporate event all year round.
Château Gassies has everything you need for your seminars. This multi-purpose venue offers turnkey solutions tailored to your corporate events.
The estate's elegant rooms can accommodate from 10 to 180 people: the Charles X room, the Orangery room, the private meeting room, the Orangery covered courtyard and the Caleche covered courtyard.
During the summer season, you can take advantage of the outdoor areas for cocktail receptions or sit-down lunches, all in a relaxed atmosphere conducive to conversation. The West Terrace, with its unique view over Bordeaux and over the majestic Lebanese Cedar of the park, is the perfect space for your company lunches. In hot weather, the Oak Grove, a lovely shaded clearing, will be all the more appreciated.
The ideal venue for your residential seminar
Château Gassies can accommodate up to 14 people, in its 5 elegant suites and 3 spacious gîtes. You can take advantage of the estate's facilities, including access to the heated swimming pool, wellness area (Steam room & sauna), gym and outdoor sports areas. (Tennis court, Basketball court....)
Huawei & Château Gassies, a great collboration!
After an initial seminar last February, Huawei once again chose Château Gassies as the venue for its annual Truck Show on 26th & 27th April. The roadshow was run by the Delasource agency and went through 12 cities around France.
More than 150 people attended the event, which included conferences in the reception room and the Orangery room, cocktail lunches served by Deval traiteur, more intimate meetings in the private meeting room, a variety of activities in the Orangery courtyard, not to mention tours of the impressive truck containing all the latest Huawei technology. A first experience of welcoming a Truck Road Show for Château Gassies !