Cycl'Eau trade fair
Bordeaux is the emblematic host city of the Cycl'Eau trade fair, the next edition of which is scheduled for 2021.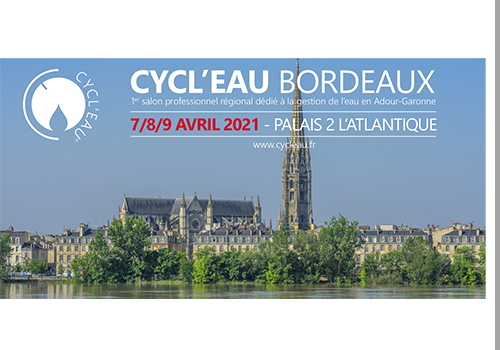 KEY INFORMATION
Dates: 3 days from 7 to 9 April 2021
Number of participants: 2,000
Sector: Water
Programme:
Trade Fair at Palais 2 l'Atlantique, new hall at Bordeaux Congress and Exhibition Centre
"Efficient21" Conference with IFTS, around 300 participants from the 5 continents
Evening session on Thursday 8 April with activities
Bordeaux Convention Bureau's support
Assistance from Bordeaux Convention Bureau since 2019.
Help grow the event in Bordeaux by bringing in important players at the national and international level, such as CWA, the world's largest association gathering water players.
Promotion of Bordeaux as a key platform for water projects.
TESTIMONY
By Jean-Claude Lasserre
"I have lived in Bordeaux for 25 years, so it was natural for me to start the adventure here. During my experiences as a prescriber in waste and water for local authorities, I realised that major generalist trade shows are no longer sufficient to generate regional development in the sector. I wanted to organise a meeting in Bordeaux, in order to promote regional exchanges. We set up the first edition in 4 months in April 2017 with Au-dela Evenements-Evasion agency, and then by ourselves since June 2019, at Hangar 14, in a port environment with all the infrastructures that Bordeaux offers in terms of visibility.

We went from 68 exhibitors and 650 participants in 2017 to 125 exhibitors and 1,480 participants in 2019. The next edition will take place in a larger site in 2021, in order to adapt to this growth. Bordeaux remains our emblematic site, even if the event has since developed in Aix-en-Provence, Strasbourg, Lille, Vichy and Toulouse.

Jean-Claude Lasserre, President of Cycl'Eau association