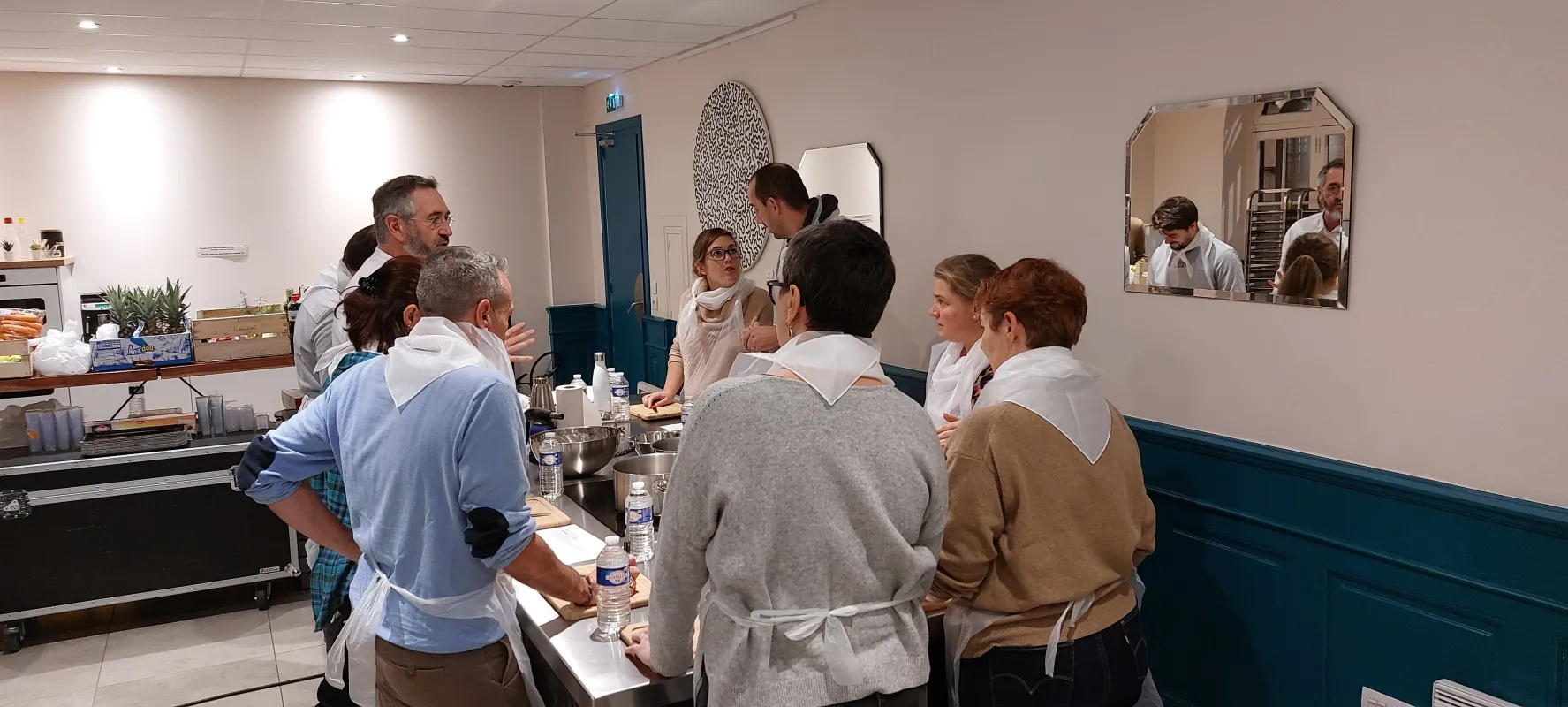 Cooking classes and gourmet animations with Toque Events
Toque Events offers you to imagine for you, a friendly and greedy team building activity, made to measure according to your objectives: integrating new collaborators, reinforcing the bonds of your teams, sharing a day out of professional time.
A workshop created to measure and open to all
The culinary team building is an animation that can be adapted to your corporate seminar days.
We can welcome between 20 and 50 employees, for example during an evening, in order to carry out several activities that will challenge you and allow you to discover the world of gastronomy.
Challenges and cooking: the recipe for a tasty team-building
For this activity, the participants, divided into several brigades, become apprentice cooks for a few hours. Around different activities, the brigades must win a maximum of points in order to win the competition.
The first challenge is to create a recipe or a dish from the ingredients provided, during a culinary workshop lasting one to two hours, supervised by a chef. In this challenge, collaboration and mutual aid within the brigade are the keys to success.
Second challenge: while some of the brigades are in the kitchen, the others try to win as many points as possible in different workshops:
The buzz cooking quiz

: In the spirit of the game "Who Wants to Be a Millionaire", the participants are invited to answer questions on the theme of French and world cuisine. Which brigade will have the best knowledge of the gastronomic culture?
The workshop of the senses

: 5 challenges on the themes of sight, hearing, smell, taste and touch. The participants try to find the scents, the food, the sounds... that are presented to them. Which brigade will have the best honed senses?
Product recognition

: The participants will be confronted with several products, often unknown to the general public. Whether it's through deduction, luck or knowledge, the challenge will be to give the correct names of these products. Which brigade will have the most correct answers?
Challenge and gourmet competition, who will score the most points? Answers and diplomas will be awarded during a cocktail party where all the brigades will meet, an opportunity for the apprentice cooks to debrief on the activities, to discover the dishes created by each brigade and to enjoy themselves in a friendly atmosphere!